President Donald Trump said he didn't want to be locked up in the White House following his COVID-19 diagnosis, but will now spend the next few days in a special suite at a military hospital.
The president arrived at the Walter Reed National Military Medical Center in Bethesda, Maryland on Friday just a day after news emerged that he had tested positive for the disease.
On Saturday, Trump released a video message from his suite, saying he had "no choice" but to leave the White House.
"I just didn't want to stay in the White House, I was given that alternative. Stay in the White House, lock yourself in, don't ever leave. Don't even go to the Oval Office, just stay upstairs and enjoy it. Don't see people, don't talk to people and just be done with it. And i can't do that, I had to be out front," he said.
"This is America, this is the greatest country in the world, this is the most powerful country in the world. I can't be locked up in a room upstairs and totally safe, and just say, 'Hey, whatever happens, happens. I can't do that. As a leader you have to confront problems."
Trump will now work out of his suite for the next "few days" out of an "abundance of caution," White House Press Secretary Kayleigh McEnany said in a statement.
In the video, Trump said he was "doing well" while adding that the "real test" would come in the next few days.
"I came here, wasn't feeling so well, I feel much better now. We're working hard to get me all the way back. I'll be back, I think I'll be back soon, and I look forward to finishing up the campaign the way it was started and the way we've been doing and the kind of numbers that we've been doing."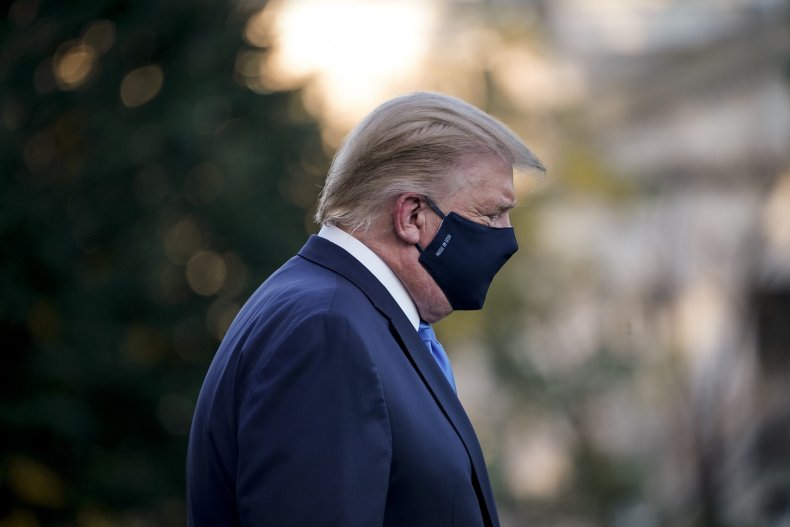 Due to his age and weight, the 74-year-old president is in one of the highest risk categories for COVID-19. In the video message, he said his wife Melania Trump—who is 24 years his junior—was "doing very well" after she also tested positive for COVID-19.
"Melania is really handling it very nicely. As you've probably read, she's slightly younger than me—just a little tiny bit—and therefore, just, we know the disease, we know the situation with age versus younger people, and Melania is handling it statistically like it's supposed to be handled. And that makes me very happy, and it makes the country very happy," he said.
Toward the end of May, as hundreds of Americans protested outside the White House following the death of George Floyd, Trump reportedly sought refuge for a short time in the building's fortified bunker, according to The New York Times.
Trump tweeted after the incident that he had "watched every move" that the Secret Service had made to protect him during the protests, without mentioning that he spent time in the bunker, which is only used on rare occasions, such as the when there is a risk of a terrorist attack.
Many social media users criticized the president for holing up in the bunker, with several calling him "bunker boy."
The president later denied that he had used the underground bunker to hide away from protestors, saying that he had visited the facility earlier on the day of the protests for an "inspection."
"It was a false report. I wasn't down. I went down during the day, and I was there for a tiny, little, short period of time. And it was much more for an inspection. There was no problem during the day," Trump told "Fox & Friends" co-host Brian Kilmeade on his Fox News radio show.